Sushi bake is one of the most easiest to prepare meals and it is loved by kids and adults alike. Preparing it is easy and have your kids help make them for some bonding moment together. Add some crunchy delight and upgrade your sushi bake by putting any flavor of Baby StarTM Crispy Noodle snack on it! You can even mix it and enjoy different flavors! This is one unique and tasty meal that would have everyone asking for seconds!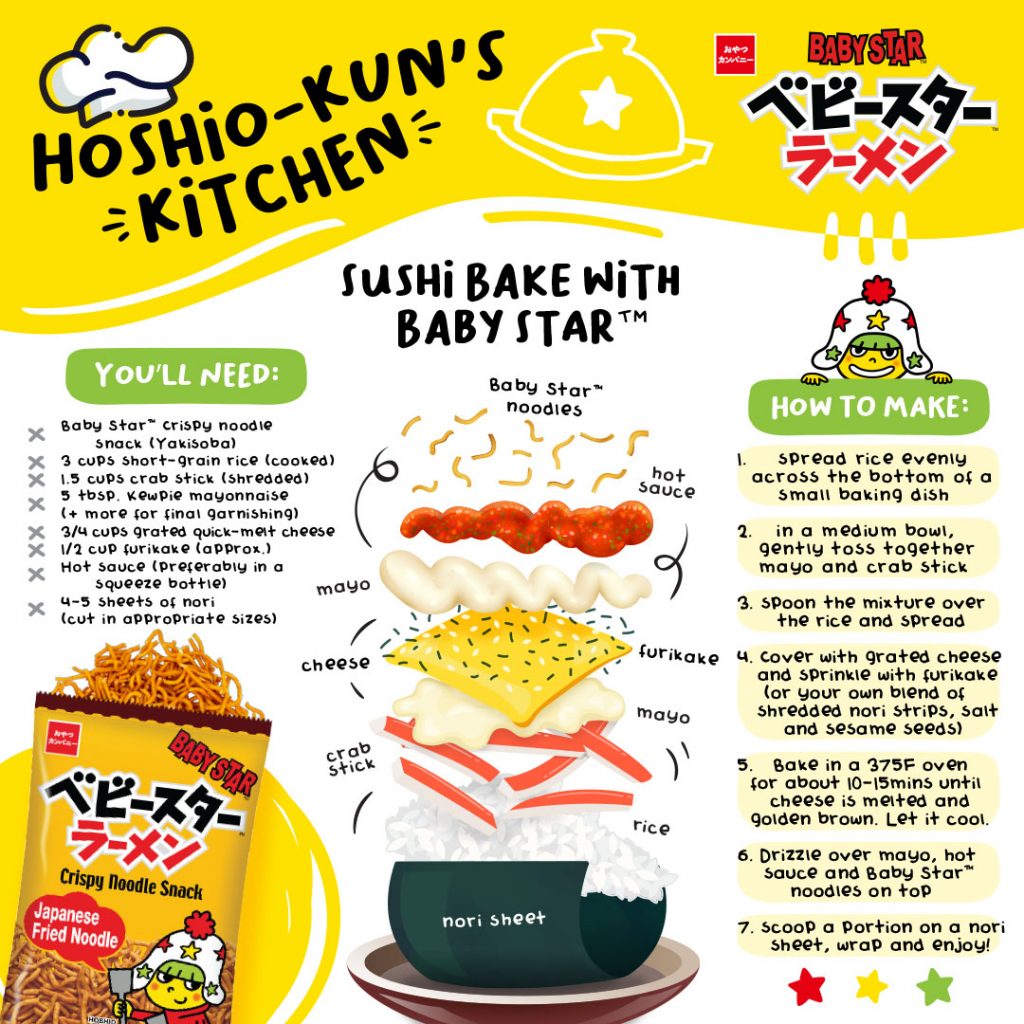 Ingredients You'll Need:
Baby StarTM Crispy Noodle Snack Yakisoba Flavor
3 cups short-grain rice (cooked)
1.5 cups crab stick (shredded)
5 tbsp. Kewpie mayonnaise (+ more for final garnishing)
3/4 cups grated quick-melt cheese
1/2 cup furikake (approx.)
Hot sauce (preferably in a squeeze bottle)
4-5 sheets of nori (cut in appropriate sizes)
How to Make:
Spread rice evenly across the bottom of a small baking dish.
In a medium bowl, gently toss together mayo and crab stick.
Spoon the mixture over the rice and spread.
Cover with grated cheese and sprinkle with furikake (or your own blend of
shredded nori strips, salt and sesame seeds)
Bake in a 375F oven for about 10-15mins until cheese is melted and
golden brown. Let it cool.
Drizzle over mayo, hot sauce and Baby Star™ crispy noodles on top.
Scoop a portion on a nori sheet, wrap and enjoy!
Like our recipes or have one to share? Write to us at Baby Star Philippines Facebook or Instagram! 🌟